Having your furniture cleaned is a great way to improve its look and extend its life. We are experienced in cleaning all types of fabrics from vintage cotton velvets to the newest synthetic fabrics. The upholstery cleaners at Carpet Man Carpet and Upholstery Cleaning takes pride in making your furniture look clean and bright again.
Professional upholstery cleaning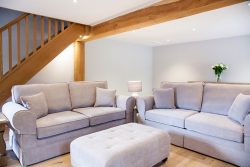 If you're looking for professional upholstery cleaning services in the Happy Valley, Clackamas County, Sunnyside, and Damascus, OR, along with the rest of the Portland Metro Area, Carpet Man Carpet and Upholstery Cleaning is your number one service provider. Whether you need residential or commercial upholstery cleaning services, we can do it all. We clean fabrics of all types, including:
Sofas/Sectionals
Loveseats
Chairs
Dining room chairs
Mattresses
Auto upholstery
RV interiors
Office chairs
Benches
We provide professional upholstery cleaning services throughout the Portland Metro Area.
How We Clean Your Upholstery
Our upholstery cleaners clean upholstery the same way we clean carpets—efficiently and thoroughly. Not all upholstery fabrics are the same; some need different treatments than others. Because of our vast experience we have the ability to use different methods of cleaning based on your fabric requirements. Best of all we do the cleaning in your own home, no need to have it taken out and gone for a week or more. Your upholstery will be ready to use in just a few hours.
If you're worried about chemicals lingering in your upholstery, we're ready to deliver peace of mind to you. We do not use harsh or high ph chemicals or detergents when cleaning. We use the same type of environmentally safe solutions that we use when cleaning carpets leaving no dirt-attracting residues behind.
For furniture cleaning services near Happy Valley, OR, make our upholstery cleaners your first call. We do our best to make you happy. Our guarantee is the same whether we are cleaning carpets, area rugs or upholstery.
If you aren't happy with it, you don't pay for it.
Contact us today for our current prices on professional upholstery cleaning services, carpet cleaning and repair, and furniture cleaning at 503-761-2378.
Check out our customer reviews!
"I wouldn't have anyone else clean my carpets."
– Joni G.