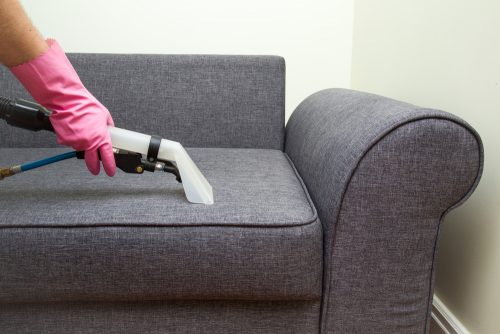 Is your favorite recliner feeling a little stale lately? Have pets and kids and guests all left their mark on your sofa or sectional? Proper furniture cleaning can help restore your furniture's appeal, refreshing it and breathing new life into the fabric. Carpet Man Carpet & Upholstery Cleaning is the premier choice for sofa and recliner cleaning in Happy Valley, Clackamas County, Sunnyside, and Damascus, OR, along with the rest of the Portland Metro Area. We tackle all types of problems—from stains and spots to general cleanings and beyond—to restore your creature comforts to their fullest. Whether it's a couch you've had for years or an armchair that's only been around a few weeks, let our team show you the power of industry-best furniture cleaning.
Safe for Pets and People
Unlike other companies that use harsh chemicals and industrial-strength abrasives to clean, our team uses only gentle cleaning products that are safe for both pets and people. As soon as your furniture is dry, you'll be able to use it again—no more waiting days for volatile VOCs to dissipate or chemical odors to fade!
Perfect for Older Pieces
Need chair or sofa cleaning in the Happy Valley, OR for an old, antique piece of furniture that requires gentle care? Give us a call first. Our team takes a tremendously careful approach to handling your treasured furniture pieces—including priceless heirlooms and antiques. With a white-glove touch, we handle every piece like it belongs in a museum, all the while performing thorough furniture cleaning and refreshing that shows.
Expert Cleaning Abilities
At Carpet Man Carpet & Upholstery Cleaning, we've seen it all before. No matter the nature of the stain, what caused it, what the extent is or what type of fabric your furniture is made of, we have the know-how to erase it. Our mission is to always leave you with a sofa or recliner that's in mint condition. Before you fear the worst for your trusty piece of furniture, give us a call and see what we can do to restore it.
Get Your Upholstery Clean
Next time you kick back in your favorite recliner or take a seat on your couch, ask yourself if it might benefit from refreshing furniture cleaning services. If there are noticeable stains, lingering odors or just a stale feel, contact the professionals at Carpet Man Carpet & Upholstery Cleaning today at 503-761-2378 for furniture, upholstery, and carpet cleaning and repair.
Check out our customer reviews!
"Your man, Joe, did an outstanding job! We could not believe the carpet could look so good!"
– Jim C.