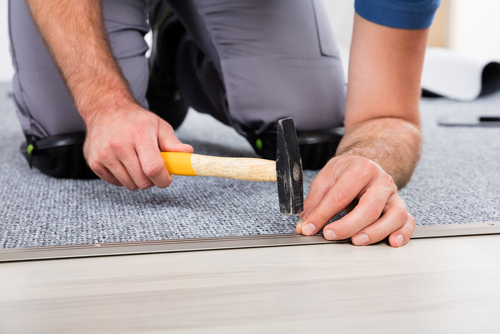 Carpet takes heavy abuse and over time, it starts to break down and compromise. But cleaning only does so much. Sometimes, carpet repairs are needed to get the fullest life possible out of your rugs. Carpet Man Carpet & Upholstery Cleaning delivers restorative repairs to damaged carpets, helping homeowners restore the appeal of their flooring and maximize their investment.
Our carpet cleaning professionals have expert knowledge in all types of carpet repair in Happy Valley, Clackamas County, Sunnyside, and Damascus, OR, along with the rest of the Portland Metro Area. We know how to identify problem areas and provide solutions that remedy them completely. Best of all, we work quickly and take non-invasive routes, so we don't disrupt your home in the process of fixing your carpets. Our carpet repair abilities include:
Carpet stretching: If your carpet is bunching up or developing wrinkles, stretching is needed to flatten it out. Wrinkles can cause tripping hazards or excess wear—we pull your carpet taut to keep you safe and your carpet in good condition. You won't find a quicker, more thorough or effective solution than our carpet stretching in the Portland Metro area!
Edge repair: Edges that aren't properly secured can start to peel upward over time. We pull your carpet tight and re-nail it down in place, to prevent edge damage that lessens the lifespan of carpet. We also take heed of baseboards and vents, to make sure everything looks clean and pristine when secured back in place.
Damage carpet replacement: Sometimes, damages to your carpet are beyond repair. In instances where the damage can't be steamed out or the fibers are completely degraded, we offer carpet replacement. Our team replaces carpeting along the seam for an instant upgrade that erases all prior damages. We match fiber and color seamlessly to present a truly cohesive look.
In homes with pets and kids, carpet damage can be widespread and extensive. Consider Carpet Man Carpet & Upholstery Cleaning to be your all-in-one solution to remediating these problems. If we can't steam and clean them away, we'll work to repair and replace them as needed. Our goal is to leave you with carpeting that looks and feels absolutely amazing.
To have our professionals assess your carpeting for damages or to learn more about our carpet repair capabilities, please contact Carpet Man Carpet & Upholstery Cleaning today by calling 503-761-2378. We'll thoroughly evaluate your carpeting and provide expert recommendations about how to best restore its look, feel and integrity. We also offer carpet, upholstery, and furniture cleaning.
Check out our customer reviews!
"I had forgotten my carpets are actually supposed to be off-white not brown!"
– Jeanne D.