Spilled a cup of coffee? Kids tracked in mud from outside? Did your pet have an accident on the carpet? We can handle it all. With so many years of experience as a carpet cleaner in Happy Valley, Clackamas County, Sunnyside, and Damascus, OR, along with the rest of the Portland Metro Area, we have seen most of what life can leave on your carpet and have become experts in cleaning it up.
Carpet Man Carpet & Upholstery Cleaning has provided top-quality professional carpet cleaning services throughout the Portland Metro Area for nearly 40 years. We use the most advanced professional carpet cleaning methods for your carpet, to provide you with a cleaner look and feel in less time. Our staff makes sure to avoid using chemicals that are dangerous to those in your household, whether it's you, your pets or your kids.
Carpet cleaning services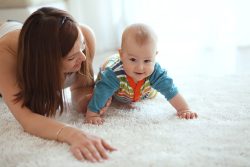 Carpet cleaning may be in our name, but we do more than just that. If you're looking for someone to provide carpet repair or re-stretching near the Portland Metro Area, we can fix your carpet in many ways. Here are just some of the ways we can improve your carpet:
Residential and commercial professional carpet cleaning
Area rug cleaning
Carpet repair to fix rips, tears, frayed seams, holes and animal damage
Carpet deodorizing specialists
Carpet re-stretching to remove wrinkles and buckles
Color repair (spot dyeing bleach spots)
How We Clean Your Carpet
There are several cleaning methods available from dry powder, shampoos and encapsulation to the most powerful truck-mounted hot water extraction systems. We offer all of them. While some of these methods are sufficient for spot cleaning or scheduled maintenance in commercial areas, where price and the appearance of clean are the main considerations the homeowner demands more. At home you don't just walk on your carpets you live on them and you need them to be clean. We all know that it's best to use plenty of water to wash dishes, laundry, the kids, pets and almost everything else. Why would our carpets be any different? We use lots of the most "natural" cleaning agents known. Water. We use advanced technology that combines truck-mounted hot water extraction with rotary and standard cleaning heads. This allows us to maximize the cleaning power while minimizing water left behind in the carpet. Your carpets can be put back into light use immediately and most will be dry within 2 to 4 hours.
Worried about chemicals coming into your house? Don't be! We use an environmentally safe solution similar to laundry detergent that is thoroughly rinsed out of your carpet leaving no dirt-attracting residue behind. If a spot reappears after we're done with our area rug cleaning, give us a call and we'll be happy to come back and re-clean that spot.
Contact us today at 503-761-2378 for a free estimate on professional carpet cleaning services and care, along with upholstery and furniture cleaning and carpet repair.
Check out our customer reviews!
"I didn't think that black spot would ever come out! You got all the spills out and the carpets dried much faster then any other time I've had it cleaned. Wonderful job and you are a pleasure to deal with. Thank you again."
– Bonnie C.